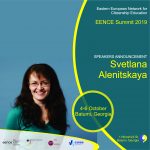 Svetlana Alenitskaya (Germany)
Programme manager of participation projects at the Federal Agency for Civic Education (Germany). She was a developer of youth peer education projects until the end of 2018. She is one of the founder of EENCE - Citizenship Education Network in Eastern Europe. In her voluntary commitment, she focuses on the support of refugees and animal psychology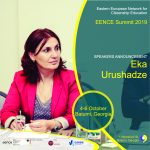 Eka Urushadze (GEORGIA)
Executive Director & founder of the CSO - Centre of Strategic Research and Development of Georgia based in Tbilisi and operating countrywide. During her 24 years successful career in the civil sector, she has worked in management positions and gained valuable experience in working on local, central and international levels. She has excellent managerial skills. She has been leading network programs, coordinating coalition projects on local level and regional levels – within Eastern European Partnerships. At the same time she is qualified community development practitioner experienced in organizational development and financial management issues. Eka is the mother of three wonderful children.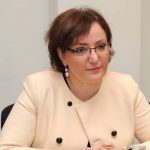 Tinatin Khidasheli (GEORGIA)
Mrs. Khidasheli at different times served as a first female Minister of Defense of Georgia, she chaired Parliamentary Committee for European Integration as well as Inquiry Commission into Violations of Freedom of Speech and Telecommunication laws at the Parliament of Georgia.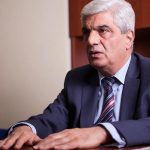 Stepan Grigoryan (ARMENIA)
Dr. Stepan Grigoryan – Chairman of the Board of the Yerevan-based Analytical Centre on Globalization and Regional Cooperation (ACGRC). 1998-2000 Senior Advisor to the Minister of Foreign Affairs of the Republic of Armenia.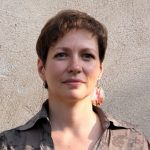 Tatsiana Vadalazhskaya (BELARUS)
Leads the Flying University, a public initiative that promotes critical thinking in Belarus, develops new forms of education and conducts research on pressing problems of Belarusian society.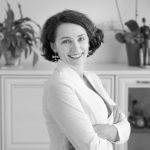 Galina Veramejchyk (Belarus)
She studied Geodesy at Saint Petersburg Mining University (Russia), General Pedagogy and History of Pedagogy at National Institute of Higher Education (Minsk, Belarus) and later obtained her Master's degree in Adult Education at Kaiserslautern Technical University (Germany).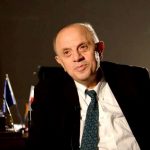 Levan Berdzenishvili (Georgia)
Born in 1953. He is the author of numerous research books and essays on Antique Comedies, Modern Cultural Analysis and Latin Language. In 2009 -2011 he was working in the United States of America, delivering lectures at different Universities. He is full professor at GIPA and associate professor at Caucasus School of Business.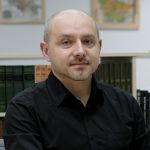 Yuriy Petrushenko (Ukraine)
Professor and Head of the Department of International Economic Relations at Sumy State University, Head NGO «Lifelong Learning Center», Deputy Head of the Board of the Ukrainian Adult Education Association, Expert in Adult Education, Civil Education Trainer.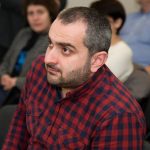 David Jishkariani (GEORGIA)
David Jishkariani graduated Ivane Javakhishvili Tbilisi State University and received BA in history (2004-2008) and MA in Russian studies (2008-2010). He continued his education at the center for Russian and Eastern European studies at the Warsaw University, Poland. He is a founder and researcher at the Soviet Past Research Laboratory (SovLab).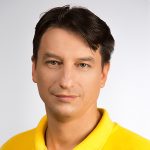 Ostap Stasiv (Ukraine)
Social entrepreneur and civic activist.Ostap is particularly interested in transformation of active citizens into effective owners or their country.. Ostap is an expert in joint property management issues, community development, civic education, distance education, civil society development.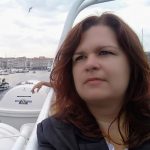 Helga Melnik (Belarus)
psychological researcher, trainer, lecturer The Head of the postdegree department, Senior Lecturer of the Department of Psychology in the State educational institution "Academy of the postgraduate education". Trainer and Expert international projects.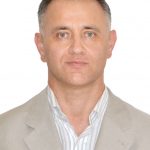 Igor Folvarochny (Ukraine)
Member of EENCE, coordinator for Ukraine (Association for World Education), Dr., Doz. Department of Psychology and Education, National University of Ukraine on Physical Education and Sport. Post doc thesis – Enlightenment activity of European NGOs in the field of adult education (second half of XX – beginning XXI century), 2016.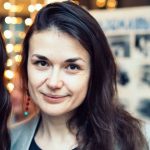 Junela Salnikava (Belarus)
Program Manager at Belarus program of International organization Pact. Junela is responsible for managing civic education and grassroots support portfolio. Junela has 20-years of experience of working as a trainer-consultant for civil society organizations, developing learning modules and concepts of CSO educational courses.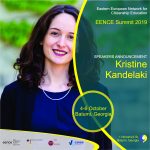 Kristine Kandelaki (Georgia)
Civil Society Organizations Development Program Manager and leading Trainer/Consultant at the Center for Strategic Research and Development of Georgia (CSRDG). She finds extremely inspiring working with CSOs, Community based organizations and Social Enterprises using long term approach which includes in-depth needs assessment and tailored organizational development services. Currently, Kristine intensively works on social impact management and measurement issues.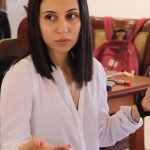 Ani Kojoyan (Armenia)
Ani is a feminist scholar who combines engagement in varied causes and activities with an academic career of teaching, research and writing. She is a trainer of gender studies, women rights and has collaborated with the local and international institutions and CSOs.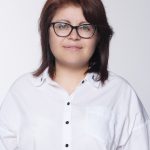 Ana Cerneva (Moldova)
Сoach, local facilitator, mentor, trainer, event manager, expert in local development, project coordinator. She has contributed to the creation of 7 Local Action Groups from Republic of Moldova. Her experience include activities in the domain of local development in both rural and urban settlements on the territory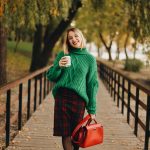 Yuliia Olianytska (Ukraine)
Project manager in National charity "Turbota pro litnih in Ukraine"(TLU), since 2014, PhD student of psychology faculty, social work department of Taras Shevchenko national University since 2017. 2019 - Qualification program «Present Past Ukraine 2018-2019".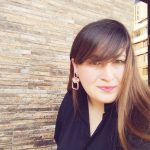 Tamar Oniani (Georgia)
Tamar was born in 1995. She graduated from Akaki Tsereteli State University. In 2016-2018 she studied at the GIPA. Since 2018, Tamar has been working in the Young Pedagogues' Union. Additionally, she was working at the world's largest youth-run organization AIESEC. One of the main interests of Tamar is technology – She has recently become a winner of the project "Women Economic Empowerment through Digital Skills Development".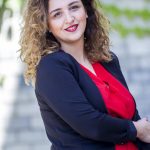 Natia Metreveli (GEORGIA)
Public Relations' Coordinator at the Center for Strategic Research and Development of Georgia.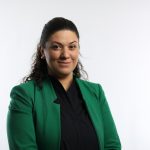 Ketevan Chachava (GEORGIA)
Ketevan (Kate) Chachava is a founder of the Sector 3 – Hub for development and is the executive director & founder of the Tbilisi-based Center for Development and Democracy (CDD). During the fifteen years of her successful career in the civil sector, she worked in management positions at several local and international NGOs. From 2016-2017, she served as the Director of the Information Center on NATO and EU. From 2006 – 2014, she served as an elected member of various committees, working groups and expert groups at the Council of Europe (CoE), the European Youth Forum (EYF) and the European Students' Union (ESU).
Miraslau Kobasa (Belarus)
Director of the Lev Sapieha NGO Presentation of the results of the "TANDEM" project - civic education and citizen participation in decision making process on the local level.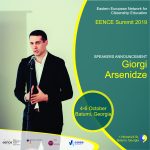 Giorgi Arsenidze (Georgia)
Giorgi Arsenidze has obtained MA degree in Law at Akaki Tsereteli State University, Georgia and BA degree in International Business Adminstration at Heilbronn University, Germany. Since 2010 is actively involved in Social Entrepreneurship development. Since 2014 is working at ASB Georgia as a Social Enterprise Program Coordinator. He is highly involved in promotion of Social Entrepreneurship concept in Georgia. He coordinates several EU and US government funded projects.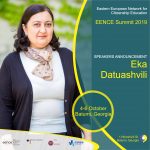 Eka Datuashvili (GEORGIA)
Eka Datuashvili has 25 years of working experience in the field of the Project management, working with Civic organizations, Social Enterprises, communities, educational organizations, Governmental organizations and companies. Eka is one of the founders of the Center for Strategic Research and Development of Georgia (CSRDG, founded in 1995), where she leads the Social Entrepreneurship Development Program since 2009.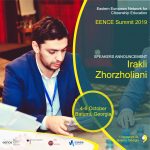 Irakli Zhorzholiani (Georgia)
Born in 1987, as a Director worked several years for the Children and Youth Development Fund of Georgia. He has organized numerous broad campaigns to support youth across the country and was the first person who starting actively advocating social-entrepreneurship on governmental level.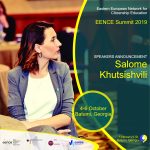 Salome Khutsishvili (GEORGIA)
Executive Director of the Social Entrepreneurship Alliance Georgia, having master's degree in business administration. She is country expert in social entrepreneurship owing 8 years' experience of working towards the field development in Georgia. Together with the managerial experience, she provides seminars and consulting services for the local CSO's and individuals in order to promote social entrepreneurship and support youth engagement in the concept development processes.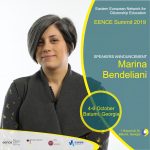 Marina Bendeliani (Georgia)
Co-founder and Executive Director of Environmental CSO "Green Gift". In organization, she manages several projects and first environmental social enterprise in Georgia. She is board member of Sector 3 –hub for development. Last two years she is Junior Water Policy Expert for United Nations Development Program (UNDP) – GEF Kura II project. Marina Bendeliani has 10 years of working experience for local and international civil society organizations.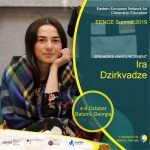 Ira Dzirkvadze (Georgia)
Ira is an engaged Young Professional from the remote region of Georgia. She is the youngest teacher of the school based in the remote region of Georgia and represents the Socaial Enterprise Gumbati. She graduated from Tbilisi State University in 2017 and nominated as a Georgian Young Volunteer in 2016. Ira is owing experience of organizing and managing numerous of events aiming at empowerment of local youth, in Tsakla Municipality (Georgia).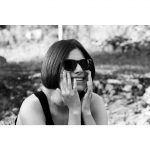 Salome Tsikvadze (GEORGIA)
Founder of Social Enterprise CHU, which is aiming entertaining board game to be transformed into civic education. Social Entrepreneur. Actively engaged in the numerous events related to Social Entrepreneurship development, experience sharing and creation of inclusive environment.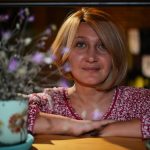 Lia Tabatadze (GEORGIA)
Founder of Social Enterprise Babale. Graduated from Tbilisi State Academy of Arts and gained MS in Arts. Director of the Georgian Down Syndrom Association.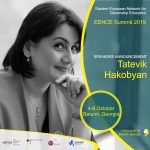 Tatevik Hakobyan (Armenia)
Tatevik is one of the co-founders of the Focus Group for Citizenship Education in Eastern European countries since 2014-2015. The FG has then successfully transformed to Eastern European Network for Citizenship Education, where she takes the role of EENCE Coordination Council member. Her academic background goes back to conducting research in Education(formal and non-formal), teaching and training, as well as expertizing in Citizenship Education.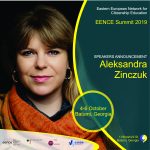 Aleksandra Zińczuk (Poland)
A literary scholar, theatrologist. The chief editor of the online magazine "Kultura Enter", published by Workshops of Culture. She is committed to popularising public debate, publishing activities, contacting writers, translators and artists. She is particularly interested in the problem of inter-ethnic relations, troubled memory, historical politics and human rights. She has been organizing and running meetings with authors, among others in the cycle "Eastern Express". She co-created the programme of the II and III Eatern Partnership Culture Congress.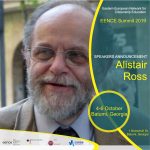 Alistair Ross (UK)
Alistair Ross is an Emeritus Professor at London Metropolitan University, holds a personal Jean Monnet chair, and is a Fellow of the Academy of Social Sciences (UK). He has been a teacher, a lecturer in teacher education, and then an education policy researcher. He established and directed the Institute for Policy Studies in Education (which focussed on educational policies for social justice) at his University (2000-09) and directed the Erasmus Academic Network on Children's Identity and Citizenship in Europe (CiCe) (1998-2008).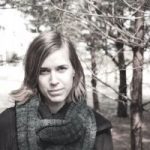 Nora Korte (Germany)
Born in 1986. Studied literature, communication and political science with East European focus in Berlin, Copenhagen and Moscow. During the studies worked in public relations and event organization. Tutor of the study program "German Studies Russia" at the Moscow State Institute of the International Relations (MGIMO). Headed the office of the German-Russian Forum e.V. at the German Embassy in Moscow and coordinated various projects in the field of education at the alumni network "Hallo Deutschland!". At the DRA, she is in charge of the project "Move More!" the youth elections "M18" in Ukraine, Russia and Georgia.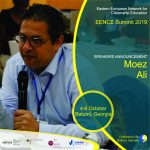 Moez Ali (Tunisia)
Mr. Moez Ali s a Tunisian civil society key actor focusing on Human Rights, countering violent extremism and corruption. He is also Co-Founder and President of "Union of independent Tunisian for freedom" (UTIL) created after the Tunisian uprising which played a central role in the national democratic transition. UTIL worked very closely with youth, women and regional NGO's on democratic awareness, citizenship awareness and involvement of women and youth in the public life.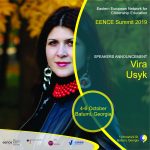 Vira Usyk (Ukraine)
PhD in Economics, Lecturer, facilitator, mentor at Kyiv National Economic University, Kyiv School of Economics, International Institute of Business, vice-president of the NGO «Young agents of change». Scholar of the Cabinet of Ministers of Ukraine as an outstanding young scientist (2016-2018). Member of the Public Council under the Ministry of Education and Science of Ukraine. Manager of the GIZ funded project "Energy of generations - cooperation between youth and older people for decentralization". Regional Manager of the programme "Mental Health in Organizations".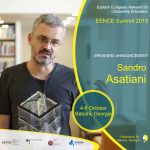 Sandro Asatiani (Georgia)
Sandro Asatiani, a co-founder of GeoLab (geolab.edu.ge) - the mobile and web applications laboratory, holds the position of the director, since 2014. He studied at the Tbilisi State Academy of arts in 1990-1995. After that he continued his studies in Accademia di Belle Arti Firenze – Pittura, Italy and Minneapolis College of Art and Design, USA. Sandro has been working in the sphere of Information and Communication Technologies and has accomplished various web and mobile apps' projects. His working experience covers a variety of fields.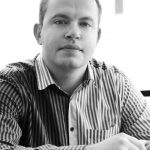 Vitali Nikanovich (Belarus)
Vitaliy Nikonovich - Deputy Chairman of the Belarusian Association of Clubs UNECO, which unites more than 60 Belarusian UNESCO clubs that work in educational institutions in all regions of Belarus. Since 2015, participates in the work of EENCE, as a member of the Coordinating Council and leader of the working group "ICT in Civil Education". One of the products created by the group is the online course "Modern understanding of civic education", which has been held regularly since 2016.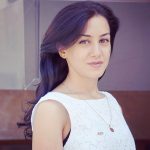 Lilit Arzoyan (Armenia)
Lilit Arzoyan (Armenia) is getting specialized in the capacity building of civil society organizations and youth empowerment. With more than seven years of experience in project management, grant-making and organizational consulting - she is now conducting program monitoring and evaluation for local and regional organizations. Lilit works at Eurasia Partnership Foundation (EPF) as Project Manager in the Civil Society Organizations Development Program (CSO DEPO) for four years.
Valery Balayan (Armenia/Ukraine)
Film director and screenwriter, member of the Union of Cinematographers of the Russian Federation and Ukraine, a member of the Guild of Russian screenwriter, member of the Guild of documentary films in Russia, a member of the Guild of Russian Filmmakers, board member of the Crimean branch of the National Union of Cinematographers of Ukraine.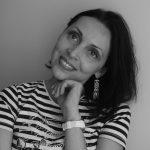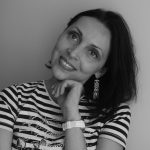 Rymma Milenkova (Ukraine)
PhD in Pedagogics, art manager in CSO BureauArt, culture and education programs curator and spokesperson at Sumy Center for Life Long Learning and a student teacher at Sumy State University. Her interdisciplinary engagement and social work recently has focused on education through community pyblic art. She unpacks civic education components, embedded into community public art projects.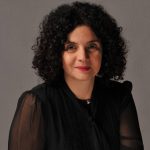 Tina Tsomaia (GEORGIA)
MD, PhD, is a Professor at the Caucasus School of Journalism and Media Management (CSJMM) of the Georgian Institute of Public Affairs (GIPA). She teaches gender reporting, health reporting, diversity reporting, advanced reporting and writing, media literacy, and social campaigning classes. She was OSI Global Faculty Grant fellow at NYU, visiting fellow at City University London, recipient of EU Cost Action scholarships. She is also a board member of Georgian Psychotrauma Society. Her research topics are: pre-natal sex selection, trauma and addiction, ethical decision making, health communication, media/health literacy; She is an author of number of publications and handbooks for journalists and health professionals: manual for covering children, manual for covering drugs and HIV/AIDS, health and law, gender, media literacy.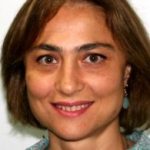 Nino Danelia (GEORGIA)
Nino Danelia is a full professor of mass communication and a head of a program "Journalism and Mass Communication" at Ilia State University. She is an invited professor at Caucasus School of Journalism and Media Management. Danelia's research interests are in democracy, civic activism and public sphere, Soviet dissident communication, and journalism professional and civic values.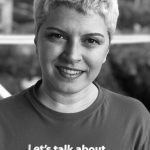 Ana Keshelashivili (Georgia)
Dr. Ana Keshelashivili is a professor of communications at the Caucasus School of Journalism and Media Management of GIPA. She has received her PhD in Communications from the University of South Carolina and her Master of Mass Communications degree from Louisiana State University. She was a Junior Faculty Development Program fellow at Duke University and visiting fellow at Annenberg School at the University of Pennsylvania. Dr. Keshelashvili's research interests are directed toward understanding the role of new technologies in the communication process and their impact on journalism
Nino Ivanishvili (Georgia)
Dean of Caucasus School of Journalism and Media Management at Georgian Institute of Public Affairs (GIPA) 2013 – Teaching "Communications and Media" at Georgian Institute of Public Affairs, School of Government Since 2007 - Thomson Reuters Foundation trainer.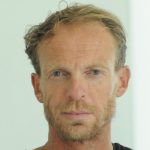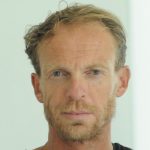 Jan Richard Bærug (Norway)
Jan Richard Bærug – Professor, author of the book Putin's Press - About Russian media and propaganda. State-controlled Russian television is perhaps the main key to Vladimir Putin still sitting in power in Russia. Information war, propaganda and fake news have been growing steadily ever since Putin took power on New Year's Eve 1999.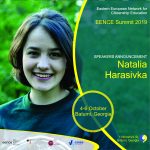 Natalia Harasyvka (Ukraine)
Certificated master of game "World of communities" Uses game simulators for civic education of youth and attraction of citizens to local self-government. Since September 2019, she has been working as a facilitator in a project on the use of the "World of Communities" training game to increase the effectiveness of educational initiatives with partner organizations DVV International in Moldova.