Strengthening ICT Skills for Empowering Democracy
This is the name of another project that won the EENCE idea contest. The project manager, Tamar Karaia (Georgia) shared her concepts and talked about her team.
Tamar, what is the relevance of project idea you are planning to implement?
Nowadays, citizens can guarantee accountability of the political system by using electronic mechanisms.
On the one hand, the state is obliged to follow the given principles, but on the other hand, citizens must have mechanisms to monitor the government's activities and share their feedback.
This process is crucial in Georgia as e developing country, where citizen empowerment and using electronic mechanisms to increase public service availability and efficiency must be an essential priority.
This project aims to strengthen ICT skills among students to ensure better citizens' democratic control and monitoring over the government.
What will be organized in the frame of your project?
Within the project's framework, we will research effective e-governance mechanisms that enhance citizen engagement and democratic control over public processes.
The research team will elaborate on the research-based training module, and the module will include local and international best practices.
The primary experience-sharing strategy is training the students, which will inform the participant about the useful electronic databases that can be used for analyzing public political processes in each country.
The trainees will work to practically use the ICT skills to empower democracy in their local community by effectively using electronic public services, efficient analysis of electronic public data, or raising awareness on necessary ICT skills for democratic processes in their local communities.
The results of the implemented projects will be presented in a joint workshop. The participants will share their experiences, challenges, and achievements towards implementing gained ICT skills.
The project will be followed by elaborating and publishing a scientific paper based on the research conducted.
The paper will be focused on e-governance mechanisms that lead Eastern partnership countries to empower democracy. This paper will be helpful for the members of the EENCE and other stakeholders.
What results are you expecting from this project?
Developing ICT skills among the students, making these tools a part of everyday life, promoting research in the field, and building bridges among international experts are the primary expected outcomes of the project.
Please tell us about project team
My former student and colleague will perform the project's primary duties alongside me.
Tamta Tchrikishvili is a professional with a diverse political science, public administration, and human resources background.
Currently pursuing a Ph.D. in Political Science at Iv. Javakhishvili Tbilisi State University, she s demonstrated a commitment to academic excellence and research. With extensive international experience, including courses and scholarships in the United States and Sweden, she poses a global perspective on sustainable public management, Public Policy Analysis, organizational management, and research.
These experiences have equipped her with strong analytical skills, allowing her to conduct thorough research, evaluation, report writing, and elaborate relevant recommendations.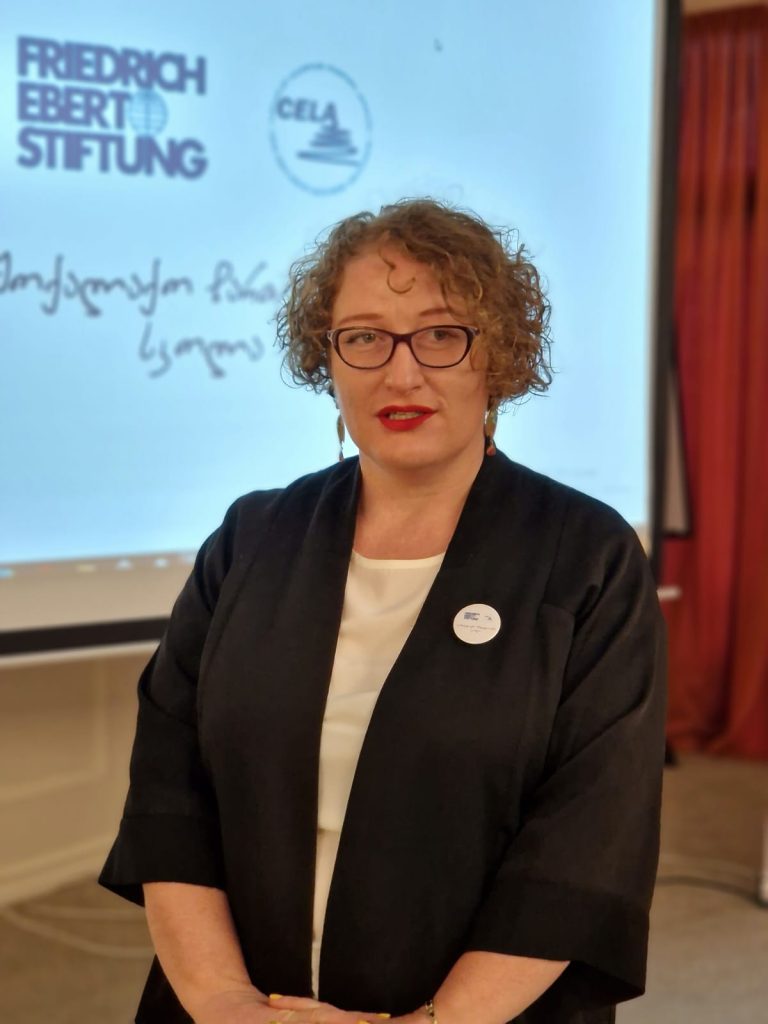 Tamar Karaia (Georgia)
I am Dr. Tamar Karaia, Ph.D. in Poltical Science. I am an associate professor at Tbilisi State University and Executive director of the Civic Education Lecturers Association.
A political scientist and researcher with more than fifteen years of experience in research and teaching in memory studies, civic education, and social movements same time, I have been involved in Georgia's HEI civic education curriculum development process.
As a project manager, I am experienced in implementing various national and international research and action projects.
I am the author of civic education textbooks and guide both as HEI as vocational education students and lecturers.
---
"Strengthening ICT Skills for Empowering Democracy" project will be implemented in the frame of EENCE activity under support of Federal Agency for Citizenship Education (bpb) and funded by German Ministry of Foreign Affairs.
Read also:
Become a part of the winner CE ideas for 2023!
Impact podcast: EENCE activists will teach the methods of the countering propaganda and the development of critical thinking