Swedish Institute Academy for Young Professionals (SAYP) 2021
Join the Swedish Institute Academy for Yong Professional (SAYP) Baltic Sea Region and Eastern Partnership countries and deepen your knowledge about modern sustainable governance.
SAYP is a training programme, designed to reinforce your professional skills, enhance your cross-cultural understanding and develop your regional perspective on innovative and sustainable governance.
You are welcome to apply if you:
Aspire to work for modern sustainable governance and grow your network of like-minded professionals
Are in a position within policymaking, public administration or civil society
Are a young professional up to 35 years old
Have a good working knowledge of English
Are a citizen and resident of Armenia, Belarus, Estonia, Georgia, Latvia, Lithuania, Moldova, Sweden and Ukraine.
The deadline to apply is on Monday 22 March, 2021.
A great opportunity for you as a young professional, eager to learn more about modern sustainable governance and to grow your network of like-minded individuals!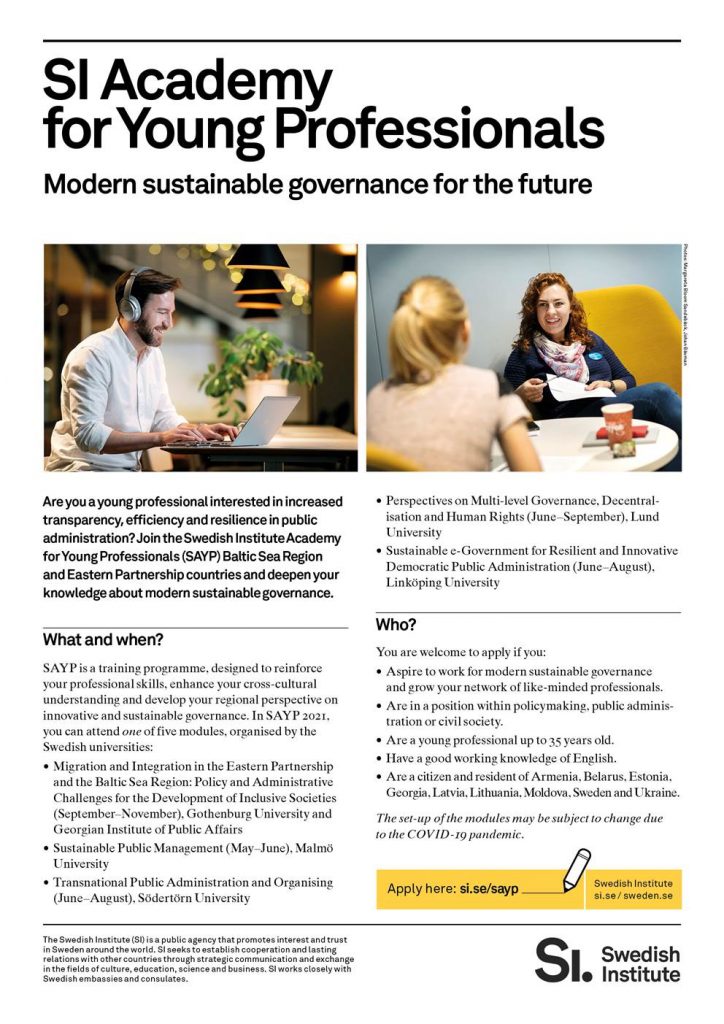 Find out more! www.si.se/sayp
The Swedish Institute on Facebook – @svenskainstitutet and Twitter – @SweInstitute