Art plus activism turns out to be ARTivism!
The Assembly of Young Citizens of the Mediterranean (AJCM) invites you to the second Med Talks on April 8 at 6pm (Paris time). Join the meeting for 30 minutes of discussion around the topic: ARTivism.
The topic will be discussed with co organisers Marine from the Fundación ACM Asamblea de Ciudadanos y Ciudadanas del Mediterráneo and Narine Youth is Power NGO, as well as guests from 3 different countries.
It will be photographer Charlotte Menin, an artist and member of EENCE (Eastern European Network for Citizenship Education) Rimma Milenkova and actor Filip Cukovic, who will present their experiences and testimonies on this subject from Ukraine, Montenegro and France.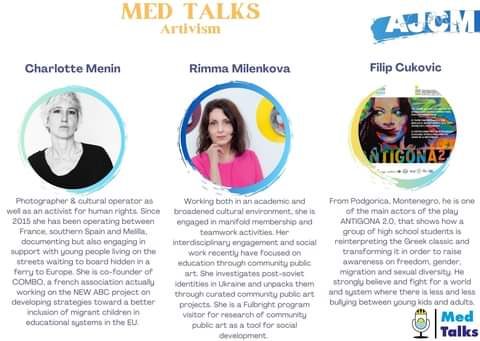 Annotation
Artivism – the intersection of art and activism.
Artivism is a practice consisting in creating artistic forms of political expression, to raise awareness and promote social, economic and political change. It aims to respond to local and global injustices through the lens of creative expression. Through Activism, artistic practices – from oral to visual art – become means of resistance in time of crisis / oppression.
While the term artivism is relatively new, art has been used to depict and fight injustices for a long time.
See also:
The Assembly of Young Citizens of the Mediterranean (AJCM) invites you to Med Talks