Environment, equal opportunities and mobility: the AJCM festival was held
The participants from France, Italy, Spain, Armenia, Lebanon, Algeria, Morocco, Egypt, Cyprus, Greece, Croatia etc. met on June 25th, 26th and 27th.
Last year more than 8000 people from all over the Mediterranean gathered for the digital festival.
This year it was 3 days and full of online and offline events. On the agenda, the outcome of the Speak Up campaign, international debates, online conferences, Med Talks, which promote the civic engagement of youth in the Mediterranean around issues related to the environment, equal opportunities and mobility.
Special attention was paid to the problem of plogging. This challenge combines physical exercise and protection of the environment.
As you may have guessed, the goal of this challenge is to cover the maximum number of kilometers in the Mediterranean and to collect the maximum amount of waste! Last year we covered 413 km, we collected 1673 kg of waste!
The member of EENCE coordination council, manager at EENCE:Club and co-organizer, co-founder at Youth is Power NGO, Narine Teknejyan, has a presentation on an opening speak up of the festival. She has presented EENCE path, aim, history, EENCE working group "Women in local communities".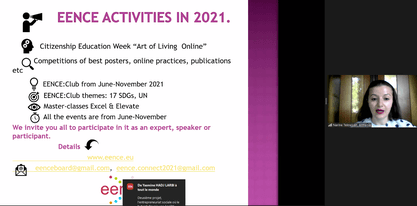 There was a specific focus on upcoming EENCE events: citizenship education week "Art of living online", EENCE:Club and master classes "Excel & Elevate".